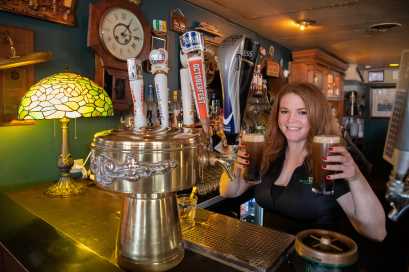 You can't go wrong when it comes to exploring Brookfield for food and shopping. It's easy to find what you're looking for, just step off the Brookfield Metra and you'll be right in the thick of it all. With so much to see and eat, let's get started with our trip of some of the best Brookfield has to offer.
You don't have to go far to find the first location. Irish Times and Pub at 8869 Burlington Avenue is dripping in Irish heritage. It's been in the neighborhood for 30 years and once you walk through the doors you'll feel like you've been transported to a friendly Irish bar in the countryside. You can't go wrong with a heaping bowl of shepherd's pie, or a mouth-watering burger. Check out the corned beef and cabbage, it's so delicious, it'll have you crying in your ale. Or enjoy some fish and chips, a fan favorite. And don't worry, there are copious amounts of suds to go around to help wash down your good times before heading out in search of more. Enjoy a pint or two on their beer garden, or saddle-up to the bar and blend right in. Enjoy daily specials and an all-you-can-eat fish fry on Fridays. They also throw an annual Guinness Oyster Fest, a summer pig roast, as well as offering fun events during the local St. Patrick's Day week.
Not far from Irish Times is Loca Mocha Café at 8858 Burlington Avenue. Located in the Brookfield train station, here you can unwind, read a book and enjoy a flavorful cup of whatever makes you happy. Sip on everything from fruit smoothies to coffee. Munch on moist muffins, or devour delectable bagels. You can even buy coffee beans by the pound. So come on in for a relaxing cup that will help you chug, chug, chug through your day.
What was once the old space for Loca Mocha Café is now the spot for a new coffee shop. Gosia's Coffee Shop at 8836 Brookfield Avenue is a quaint little place to find respite and to unwind and relax with your favorite cup and a sweet treat. Enjoy handcrafted frappes, lattes, smoothies, coffee and tea. And don't forget to grab a sweet treat too. They have muffins, croissants, scones, Danishes, cookies and brownies.
Just a hop, skip, and jump from the Brookfield Train Station is the Brookfield Fine Arts Festival, held every September at Kiwanis park, located at 8820 Brookfield Avenue. The arts festival is a celebration of art and fun. Bring the family and peruse the many vendors and artisans that set-up shop. The festival features photography, paintings, sculptures, fiber arts, crafts, jewelry, and so much more. There's also live music, a sidewalk chalk contest for the kids, family-friendly crafting activities, artist raffles for art, a duck race, and an array of food trucks and craft beer and local wines to sip. So stop by and help a starving artist eat.
Also located at 8820 Brookfield Avenue is the Brookfield Farmers Market. Here you can pick up fresh fruits and veggies to bring home and make a nutritious meal packed with vitamins for the family. There are special weekly events and kid-friendly activities. You can also select from a number of dairy options like cheese, milk and eggs, as well as local honey vendors. There are even baked goods, soaps, and unique artisan pieces to peruse.
Next on the stop is Sebastian's Ale and Whiskey House located at 8900 Fairview Avenue. Here you can try a number of adult beverages that'll help you kick it into high gear. With three locations in the Chicago area, Sebastian's Ale and Whiskey House is where you will find beer, bacon, sports, and did we mention, whiskey? Featured on Chicago's Best, and when you check out the menu it's hard not to see why. Appetizers include bacon wrapped jalepenos, bacon and steak roulade, bacon hog wings, or if you cant make up your mind try the bacon sampler, which is a sample of any four bacon wrapped appetizers. But have no fear if bacon isn't your thing, dare we say, because you can also choose from other appetizers like spicy bang bang shrimp, or toothsome cheese curds, and maybe some gooey mozzarella cheese sticks. But don't fill up before you get to the main course. Because along with a long list of Bloody Mary drinks, there's also an extensive list of soups, salads, sandwiches and wraps. And the entrees include such offerings like warm and filling mac and cheese, and as good as mom's meatloaf dinner. Hope you left room for dessert because there's no skimping here either. In case you needed even more bacon, try the brownie bacon, which is as good as it sounds, or even the brownie with ice cream. But there are other non-bacon desserts too, like the cookie skillet, gelato, and pecan whiskey twinkle. Speaking of whiskey, this might be a good time to bring up their wide-range of spirits to try. You won't be disappointed at the selection. And their taps are always revolving to offer a huge selection of both macro brews and craft beers.
Another great find for the kids is Zoo City Treats and Bakery located at 3748 Grand Boulevard. Known for its large variety of delicious ice cream flavors, this establishment takes it one step further by offering equally tantalizing baked goods too. Their ice cream flavors are legendary and include such favorites as Michigan Pot Hole, Moose Tracks, Play Dough, Cotton Candy, New York Cherry, and Bananas Foster just to name a few. And their cakes come in 6-inch, 8-inch, 10-inch, and even ½ sheet cake; the same goes for their ice cream cakes. Enjoy fudge brownies, lemon bars, and cookies. And you don't have to wait for the carnival to be in town because they also sell cotton candy.
Not far from Zoo City Treats and Bakery is Burger Antics located at 2740 Grand Boulevard, and like the name suggest they aren't messing around when it coms to meat on a bun. Along with their already satisfying menu of charred meat, they also offer a burger of the month. Plus, everything from the ketchup to the patties is made in-house. Try your hand with some of their fan-favorites like the peanut butter, bacon and jelly burger or the monetzuma's revenge burger which includes chorizo, pepper jack, grilled habaneros and a fried egg for good measure. You can even build your own, choosing from a long list of fresh ingredients. And before you head out for the night or day, try one of their delicious desserts like the cookie sundae, the maple bacon doughnut, or a warm seasonal pie.
For pizza, pasta, and gourmet burgers check out Paisans Pizzeria & Bar located at 3720 Grand Boulevard. These guys have been spinning pie for over 30 years, which is a good thing for everyone who loves a nice slice. Choose from famous Chicago deep dish, stuffed, Sicilian style, thin crust, and even extra thin crust. Enjoy their flatbreads such as: chipotle chicken, shrimp Romano, and Mediterranean. Feast on gourmet pizza and sandwiches, pasta dishes, and entrée favorites like lemon butter salmon, Greek chicken and baby back ribs. But make sure you save room for dessert.
A few steps away from Paisans Pizzeria, is The Little Owl Social Pub at 3747 Grand Boulevard. This fresh option in Brookfield offers both a vegan and vegetarian selection for those who don't eat meat. Enjoy starters such as: fried pickles, wings and veggie quesadillas. Check out their selections of tacos like the pork belly taco or fried avocado taco. There's Poutine, salads, wraps and grilled cheese like their mouthwatering BBQ Porky, The Funguy, and Mr. Greek. You'll gawk at their sandwiches and burgers like the Bayou Billy Po'Boy and the El Chapo burger. The little ones are welcome too, and there's even a kids menu for their tiny appetites with choices like chicken tenders, grilled cheese, and cheese quesadillas. With weekly events like bar trivia, karaoke and live music, the Little Owl Social Pub gives a new meaning to what it's like to be social.
Pub 78 located at 3733 Grand Boulevard is a fun little bar with a small menu packed with lots of flavor. Check out their pub snacks such as nachos, fried mushrooms, and fresh cut fries. Or step into a taco, with bite. There are wings, burgers and sandwiches. Pub 78 also has a variety of musical acts that perform live on its stage. So stop in for a friendly bite and meet some new friends while you're here.
The circle and fountain at Eight Corners has ben a destination for locals and visitors alike since 1958. In 1973, the entire area was renamed the Veteran's Memorial Circle in honor of the Brookfielders who gave their lives for their country. Stop by to honor those who gave their lives to protect the freedoms we enjoy.
Beach Avenue BBQ at 3453 Grand Boulevard is a hit on this list because it brings to the table what people like the most, BBQ and beaches. Pitmaster Juan Silva smokes his meats to perfection, leaving them dripping with flavor. Enjoy whole hog pulled pork, pork ribs, smoked Wagyu brisket dinosaur beef ribs, chicken and more. They've won first place at the Forest Park Rib Fest in 2018 for their baby back ribs with chocolate mole sauce. And also won first place at the 2017 Chili and Beer Fest in Forest Park for their Autumn Chili that featured smoked pork, chorizo and hominy corn topped with an avocado aioli. Delicious.
Between Beach Avenue BBQ and Mary's Morning Mix-up is you can find the Laura Atwood Studio and Trading Company, located at 9142 Broadway Avenue. Here you'll be able to find and create one –of-a-kind pieces. Discover a wide selection of beads from around the world. There are gemstones and even vintage beads. Sit awhile and make something nice for yourself or someone special. There is also an abundance of other handcrafted home décor items such as: candles, perfumes, incense and more. You can even pick up handmade quilts, throws and hand-woven blankets from Africa. A few even use vintage textiles in their creation. Stop by and see what unusual find you can discover or create.
For a nice way to start the day, or head into lunch, head to Mary's Morning Mix-Up located at 9110 Broadway Avenue. Mary Vasquez first opened in 2014, making breakfast, lunch and desserts to-die-for. Enjoy a number of delicious specials like their flat bread special or the 2x2x2 special. And even if your mom told you not to have donuts for breakfast, Mary makes it next to impossible to oblige, with her ½ dozen and dozen donuts. Yum. Lunch consists of fresh salads and huge sandwiches. Try the Monte Cristo and all its melty goodness. Or sink your teeth into a Vienna corned beef sandwich. Oy vey. Mary also serves up creative kid-friendly eats like the Sunshine Pancake, which is a pancake with a happy face made with fruit. And her restaurant is even decked-out in fun colorful decorations kids will love. When you're in the area and after a trip to the Zoo, bring your wild ones into Mary's Morning Mix-up.
A few blocks away from Mary's Morning Mix-Up is where you'll find Brookfield luthier, Atwood Guitars. Located at 9214 Broadway Avenue, Atwood Guitars builds and sells guitars for players of all levels. Luthier Justin Atwood, son of Laura Atwood, was inspired to play music at an early age. This love of music turned into a life-long endeavor. Since those early days, he's found an appreciation for owning and playing well-crafted instruments. As a luthier, Justin not only does his own repair work and maintenance, but he also does his own original designs and custom work. Step inside and find yourself in love with the quality and sound of a handmade guitar.
Also nearby at 9210 Broadway Avenue is Compassion Factory Art Gallery and Studio. It features rotating exhibits every month ranging in areas like photography, kids shows, and even robots. Other areas they cover are street art, emerging art, sculpture, African-American and abstraction art. The space itself is full of movable walls allowing for a fun flow of discovery to take place. They even hold art classes for adults and kids.
Another family-fun dining experience is at Tony's Family Restaurant, located at 8900 Ogden Avenue. In 2013, Eat This declared Tony's Stuffed French toast with strawberries as a "mountain of perfectly buttered and cinnamon-y French toast slices, each one stuffed with cream cheese…" topped with the fruit of your choice, including cinnamon apples; could there be anything more divine? The answer is probably not, but you might just want to see for yourself. Tony's also has a pretty prefect menu of other satisfying delights. Try their old–fashioned skillets, Benedicts, egg plates, golden brown waffles, fluffy pancakes and French crepes. The lunch and dinner menu is equally packed with appetizing fare such as Greek broiled chicken N.Y. Strip steak, chicken parmesan, ravioli, stir fry, burgers, sandwiches, soups, salads and more. There's so much comfort food at Tony's Family Restaurant, it's hard not to feel right at home.
Last on this illustrious list of places to see in Brookfield is none other than Skadarliya, located at 9237 Ogden Avenue. Skardarliya has so much going for it, from its summer patio, the eclectic menu of Serbian-Macedonian food, even their creative cocktails; this is Balkan cuisine at its finest in the heart of Brookfield. Relax and enjoy a flavorful meal with friends and family in this inviting setting. With live music and traditional flair such as: cevap, which is chopped meat served with fresh diced onion, ajvar and kaymak. Or try the karadjordje's schnitzel, which is rolled and fried pork schnitzel stuffed with mozzarella cheese and kaymak. There are even menu items for the less adventurous in your party like: chicken sandwiches, burgers, wraps, pastas, salads, seafood and more. Treat yourself to an experience of a lifetime at Skardarliya.
There are plenty of great ways to enjoy a stroll through Brookfield. These are just some. So make your way to Brookfield. We hope to see you soon.