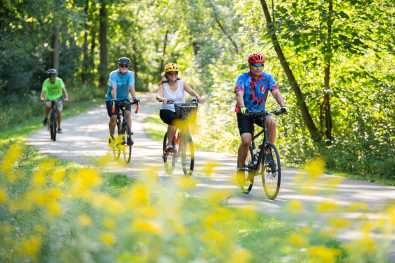 With all the beautiful nature surrounding the many villages outside the Chicago city limits, you really don't have to travel far to find yourself in the middle of a wild landscape littered with indigenous flowers and animals.
Exploring nature in Brookfield is an easy and relaxing experience. So come along, and let's show you a few of the choice attractions.
Zoo Woods at 3500 south 1st Avenue, with its entrance at 1st Avenue just south of 31st Avenue, is a peaceful respite perfect for a quiet bike ride or hike through this lovely and tranquil setting. Join friends and family at a cookout or simply enjoy a heavenly slice of life in this sun-filled park. Situated between the Brookfield Zoo and the Des Plaines River, it's an easy jaunt from both locations to enjoy Zoo Woods.
The Salt Creek Trail starts at the Brookfield Zoo and goes for nearly 27 miles to Busse Forest. Parts of the trail are paved, while other sections might have gravel. Some of the more notable trails include the red-paved trail, a 3-mile stroll from Brookfield Zoo to Brezian Woods. It's an intermediate hike, offering a rolling terrain and a variety of experiences. For an even more challenging hike or bike ride, check out the a 14 + mile red paved trail that starts at Brookfield Woods and heads west to the DuPage County border. This trail will take you through some amazing areas, including the Salt Creek Nature Preserve and Bemis Woods.
The entire Salt Creek Trail system reaches ten different communities and is estimated at over 16 miles. Perfect for hiking, walking, biking, even cross-county skiing. You can even get into the Salt Creek at a few points along the river in Brookfield. The Brookfield Village Canoe Landing is a small, landing just north of Brookfield Avenue and east of Forest Avenue, behind the Village Hall. Parking is available in the lot behind the Village Hall. With miles of waterways to explore you can get in and out of the river at various points.
Kiwanis Park at 8820 Brookfield Avenue is a nature hub for Brookfield and a wonderful jumping off point to explore the surrounding area. Here, your kids can pose for a picture under the Constitution Tree, it's been growing in the Park since 1787. You can also check out the tranquil waters of the Salt Creek as it flows into the Des Plaines River. Also found in Kiwanis Park is the Oak Savanna, which is a unique natural resources for all to enjoy. It offers an expansive area for outdoor recreation with trails to wildlife habitats and interesting plant life. The Oak Savannas themselves only occupy approximately 1% or the original 50 million acres early European settlers found. That means there are roughly only 30,000 acres left of the original land it once thrived on. Oak Savannas are plant communities with a continuous grass layer scattered overstory of trees. The Oak Savanna, while a beautiful place to take a walk, is also an important link back to those who came to find the area hospitable enough to stake their roots.
The entrance to Brookfield Woods is located at 31st Street, west of 1st avenue. Here you can enjoy 16.4 miles of the Salt Creek Trail as it winds through various landscapes and trails. Enjoy hiking biking, inline skating and cross-country skiing. Or just take a nap after a hearty picnic.
At Twenty-Six Street Woods you can enter at 26th Street, just east of 25th Avenue. Enjoy a multitude of outdoor activities such as hiking, biking and inline skating. There are miles after miles of gorgeous trails. You can even get into the river with your canoe to help you traverse the area by water. Glide along the Salt Creek River and take in the lush tapestry.
As you can see, Brookfield has what it takes to get you enjoying the great outdoors. Come and take a stroll with us.