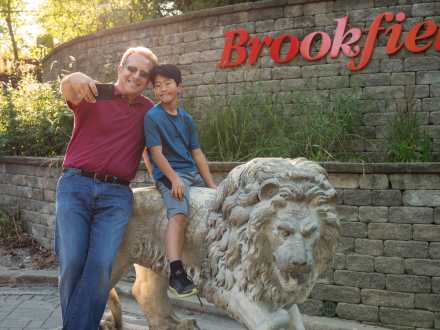 A trip to Brookfield wouldn't be complete without spending some time at the world famous zoo that dons its name.
Since its opening in the summer of 1934, Brookfield Zoo has gained international acclaim for its use of moats and ditches, instead of cages to separate the animals from the visitors. This design allows for optimum visualization of the animals as well a chance to see more than your fair share. The Brookfield Zoo is remarkable in so many ways, from being to the first zoo to breed the world's first black rhinoceros born in captivity, as well as being the first zoo to have an okapi born in the United State, and the first wombat born outside Australia. But there's more to the zoo than just breaking records.
The Brookfield Zoo receives around 2 million visitors annually, and it's quite easy to see why. The zoo comprises itself of over 216 acres of land, featuring Italian provincial buildings and formal malls. It houses over 2500 animals from over 425 different species. And if that's not special enough for you, then check out some of these special attractions that make Brookfield Zoo a perfect family destination.
At Dolphins in Action at the Seven Seas exhibit, learn some new and exciting information about these mammals. Get to know about their social structure and watch them interact while they show off some of their aerial acrobatics and other exhibitions that highlight their incredible intelligence and agility.
The Hamill Family Play Zoo is a treasure trove of activities and experiences. Children will have fun interacting and exploring, building, and playing all the while connecting with nature. They can pretend to be an animal care specialist, dress up like a lemur, or make some cool arts and crafts. The goal is to foster a sense of appreciation and caring for nature by doing, rather than communicating scientific concepts or facts. Kids can also check out the many fun and friendly animals they have here, from cockatiels, to domestic rabbits and even ring-tailed lemurs. So bring your budding zoologist for an afternoon of fun and learning.
And at the Hamill Family Wild Encounters exhibit, you'll be able to enjoy over 3-acres geared toward guests of all ages and featuring unique opportunities to touch and even feed the animals, including birds and goats. You'll also see red pandas, llamas, alpacas, wallabies and even reindeer.
At Tropic World you can look into the eyes of a primate and feel like you're steering right back into your soul. Watch and learn all about these most majestic animals. You'll have a chance to meet primates from three distinct continents. From South America learn about the black-handed spider monkeys, callimicos, cotton top tamarins, and more. From the continent of Asia, check out the orangutans and white-cheeked gibbons. You could also possibly catch the small-clawed otters if you're fast enough. And finally, from Africa meet the colobus monkey as well as the western lowland gorillas. Catch them in play or interacting in a social group.
At Habitat Africa! The Savannah, here's your chance to experience the sights and sounds of the animals indigenous to the African continent. See reticulated giraffes, which are giraffes with two distinct gender forms. The males are taller and have a slightly different facial expression along with hornlike knobs on the top of their head. You can even spot African painted dogs, Africa's most endangered predator, as well as kilspringers. which are tiny deer-like creatures with pointy horns on their head and powerful hindquarters. Or see if you can spot the red river hog, found in central and south Asia, this animal has a striking rust-red fur with black to gray legs and white stripe down its spine. They happen to be the most colorful of pigs and they even use their colors, ear tassels, and neck manes when throwing down a threat.
At the Butterfly exhibit feel like you're floating on a cloud as you watch these majestic creatures take flight. Discover some of natures more beautiful creations and watch as they flutter about around the pond, land on rocks, flowers, maybe even you? The exhibit showcases species native to North America, such as the monarch butterfly. You can even watch the transformation from pupa to caterpillar to butterfly in the 'pupa room'. It's a treat for all ages.
Take a spin back in time on the Carousel at Brookfield Zoo. This carousel is considered the largest non-restored hand-carved carousel in the country. It features 72 animals and 3 chariots. Some animals featured can even be spotted among the attractions at the zoo. There are over 800 light bulbs, so every trip around makes you feel like your spinning in space.
Get to know Brookfield Zoo through a Motor Safari. Motor Safari is a great way to see all the animals without having to hoof it. You'll get a chance to learn the history of the zoo and other interesting facts about each animal without breaking a sweat.
And finally, step back in time to the days where gigantic animals roomed the plans. At Dinos Everywhere, that's exactly what you'll do. Experience a prehistoric world of over 40 animatronic dinosaurs, including some of the most gargantuan dinosaurs around, like the Argentinosaurus that weighs in at an estimated 110 tons and is over 100 feet long. Search for this species along with all the other earth shakers at Dinos Everywhere in Brookfield Zoo.
So you see, there's fun, learning opportunities, and a chance to spend time with the family all within the confines of lovely Brookfield Zoo. See you there.