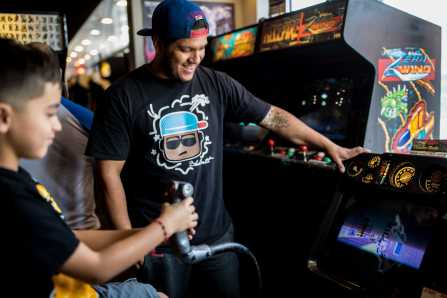 Sure, everyone knows Brookfield Zoo has family-fun activities covered, but did you also know there are a number of other cool and fun places the entire family will enjoy? Let's take you to some right now.
The Compassion Factory Art Gallery and Studio located at 9210 Broadway Avenue isn't just an art gallery. It's also a place to bring the family and learn a few skills of your own. The Compassion Factory features rotating exhibits every month ranging in areas like photography, kids shows and even robots. Other areas they cover are street art, emerging art, sculpture, African-American and abstraction art. The space itself is full of movable walls allowing for a fun flow of discovery to take place. They even hold art classes for adults and kids.
How does the adage go, a family that plays together, stays together, or something along those lines? Well, that couldn't be more evident than at Galloping Ghost Video Arcade, located at 9415 Ogden Avenue, and Galloping Ghost Pinball Arcade at 9213 Ogden Avenue. Both places are mere blocks from each other and offer
discount prices when you purchase tickets for both venues. At the Video Arcade, expect to see over 600 vintage and contemporary games, there's bound to be a few hundred perfect for you. At the Pinball Arcade fill your head with two floors of bells, dings, and free plays, as you thwack the metal ball around. There's fun and excitement in every push of a button in both locations. You can also pick up the necessary nutrition for a day of gaming. Choose from sodas, candy, and popcorn. It's all the sustenance you need to keep you in the game.
After you're done kicking some virtual butt, you can kick your own butt in gear with a workout at the Galloping Ghost Martial Arts Place (GAMA), located at 9201 Ogden Avenue. Here you can workout, take classes and learn new ways of striking fear and envy in all those you meet.
And all though the Grossdale Station, located at 8858 Burlington Avenue is no longer a transportation hub, it is a great place to learn about the history of Brookfield. The Brookfield Historical Society has spent tons of effort and money on renovating this iconic landmark named after Brookfield's original namesake, Grossdale. The station now houses a museum to the history of the area. Bring the family and learn about this small towns big ideas and how it went from Grossdale to Brookfield. The station was originally constructed in 1889, and is the only structure in the village that is listed on the National Register of Historic Places. Now that's pretty historic.