863 Des Plaines Avenue
Forest Park, IL 60130

PLACES TO STAY
Meet us where history is unburied

Tracing the history of Forest Park means gazing into its historical foundation of grave-making. When the city of Chicago banned all new cemeteries in the 1870s, Forest Park embraced the business of dying by building cemeteries and gravestones.

The Guinness Book of World Records once wrote that the Forest Park population is more dead than alive. To this day more than 800,000 souls are buried in the village.

So, you can bet that there is a lot of history to unbury in those cemeteries. And that's just what the Historical Society of Forest Park aims to do with its historical cemetery tours.

The Forest Home Cemetery Tour takes you to the Haymarket Martyrs Monument. This is the burial ground for the labor demonstrators who were executed following the Haymarket Massacre.

It's said that no single event has a greater influence on U.S. labor history than the Haymarket Affair when a bomb was thrown at police officers during a demonstration in support of workers striking for an eight-hour workday. Seven officers and four civilians died at Haymarket Square that day.

Later four of the demonstrators - dubbed the Haymarket Martyrs - were tried and executed. None of the condemned threw the bomb.

The nearby graves are of those who asked to be buried near the martyrs. That includes the grave of Emma Goldman, a pioneer for the rights of laborers and women.

Tours are also available for the Concordia Cemetery.

All tours cover the history of the land, which was originally a burial ground for Native Americans.
Best Time to Visit
Virtual tours are currently available at any time.

Check the Historical Society of Forest Park's calendar of events for virtual and in-person events and tours. Contact the historical society for more information: forestparkhistory1975@gmail.com.


Meet your guides at the 16 Inch Softball Hall of Fame: The staff manning the desk at the museum are passionate about the game of softball, and they can't wait to tell you all about the history of the game. If you're lucky, they'll even teach you how to play!
Costs
Tours and events range in price. A $10 donation is suggested for the tours of the Forest Home Cemetery, Concordia Cemetery, and the Haymarket Martyrs Monument and Radical Row Tour.
Meet Your Guides
Founded in 1975, the Forest Park Historical Society hosts community events, tours, and online exhibits.

Tour guide Amy Binns-Calvey hosts the virtual tours of both the Forest Home Cemetery and Haymarket Martyrs Monument and Radical Row Tour. Ken Knack leads the Concordia Cemetery tour.
How To Get Here
The Forest Home Cemetery is located at 863 Des Plaines Avenue, which is a 0.3-mile walk from the Forest Park Stop on the "L" Blue Line. The Concordia Cemetery is located at 7900 Madison Street just a one-mile walk from the Forest Home Cemetery.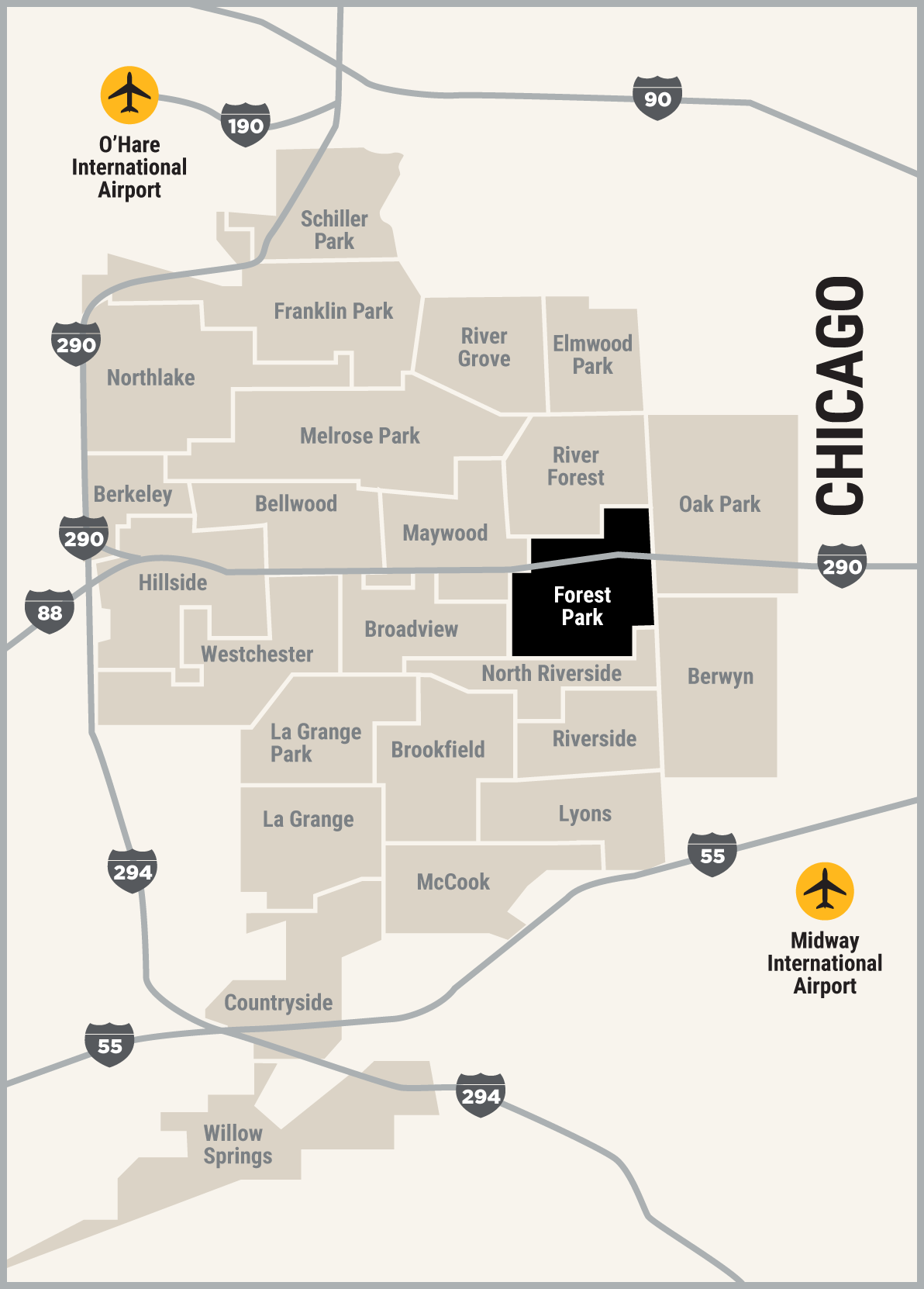 You Might Also Be Interested In...
There's More To Discover!