PLACES TO STAY
Meet us where the neighborhood is designed by a legend

Just nine miles from downtown Chicago, a tree-lined neighborhood in Oak Park is defined by the legendary architect who called it home. It seems that the Frank Lloyd Wright Historic District boasts a Wright-designed structure at every turn!

Nearly 30 homes and buildings here were designed by Frank Lloyd Wright, including his own home and studio where he designed so many of the houses that you will see when you stroll through the Frank Lloyd Wright Historic District.

To see the home and studio, Cheney Mansion, Unity Temple, and so much more, you can wander the area on a self-guided tour, or opt for a guided tour on foot, bike, or rickshaw!

The Frank Lloyd Wright Trust offers outdoor, guided walking tours like Wright in the Neighborhood and Wright Around Oak Park. If you'd rather ride your bike, the Trust also offers Pedal Oak Park, a guided bicycle tour. Bring your own bike or borrow one from your guides.

If you prefer to ride while someone else does the pedaling, you won't regret booking a tour with Rickshaw Rick's Tours and Taxi. Rickshaw Rick will take you in his pedicab while he regales you with stories about Wright and Oak Park. He is a trained storyteller, actor, and tour guide who has lived and worked in the area for more than 15 years.

While you're visiting the Frank Lloyd Wright Historic District, make sure to stop by the International Mansion, which houses Oak Park's Language and Music School. Inside this castle-like structure, you can learn to play an instrument or speak a language.
Best Time to Visit
Daylight hours are best for visiting the Frank Lloyd Wright Historic District on a guided or self-guided tour. For a unique experience, visit Oak Park for the annual Wright Plus Housewalk when tours of the interior of eight homes are on display.
Costs
There is no cost to visit the Frank Lloyd Wright Historic District if you opt for a self-guided walking tour. If you choose a guided tour, costs vary depending on your selection.

Wright in the Neighborhood (guided): $20
Wright Around Oak Park (guided tour of Wright attractions in Oak Park): $65
Pedal Oak Park (guided bicycle tour of the home and studio and Wright-designed homes, including the Heurtley House, Cheney House, and more): $45

Rickshaw Rick offers guided bike tours that are $15 per hour (or $20 per hour to rent a bike). Guided rickshaw tours are $15 per half-hour.
Meet Your Guides
Whether you choose a tour with the Frank Lloyd Wright Trust or a tour with Rickshawk Rick, you will find that the tour guides of Oak Park are passionate about educating and inspiring the public about Wright's designs.
How To Get Here
The Frank Lloyd Wright Historic District is about a 15-minute walk from the Oak Park Stop on the CTA Green line as well as from the Metra Union Pacific West Line. It is a 20-minute drive from downtown Chicago. If you choose to start your visit at the Frank Lloyd Wright Home and Studio, the address is 951 Chicago Avenue.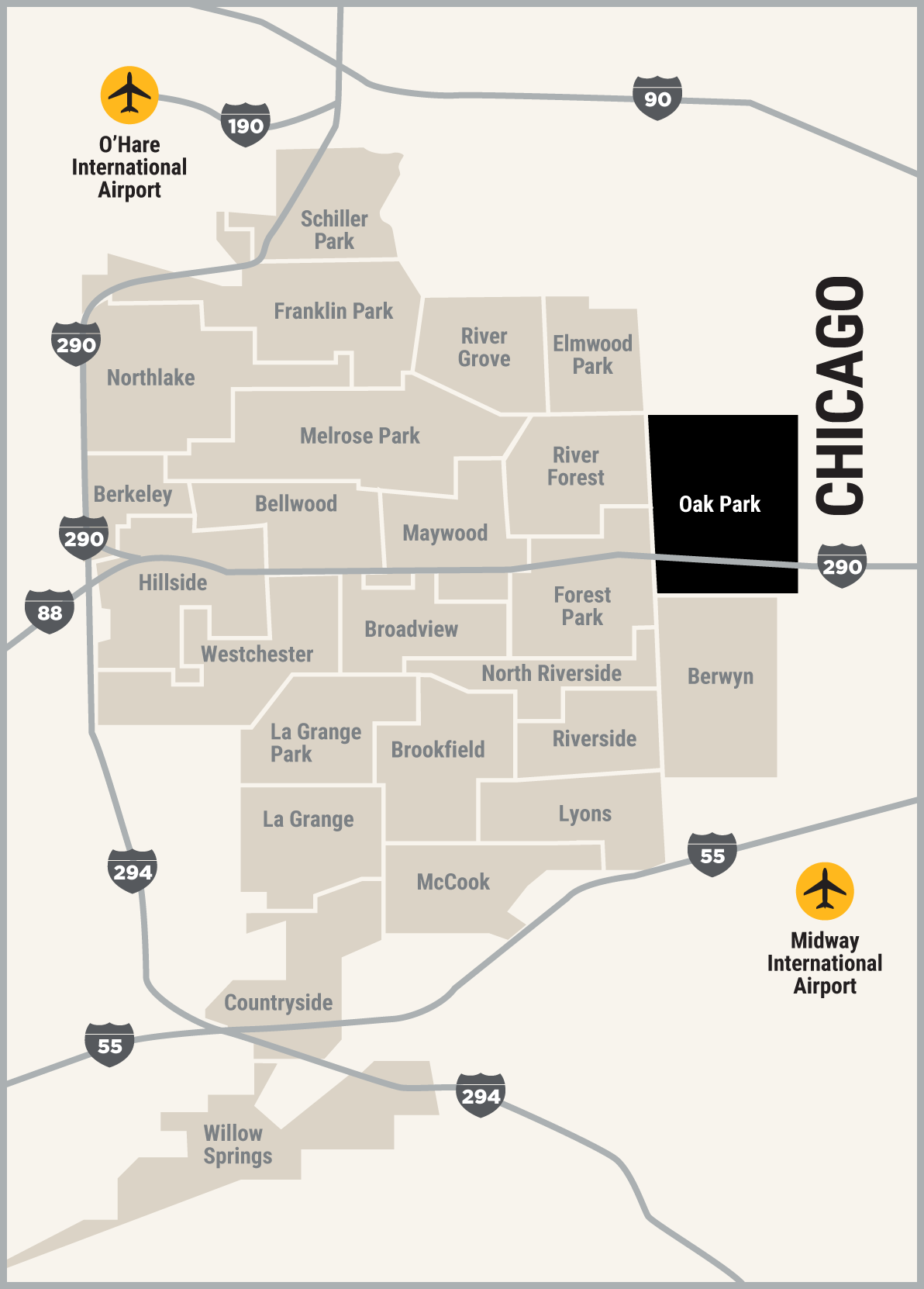 You Might Also Be Interested In...
There's More To Discover!