107 South Scoville Avenue
Oak Park, IL 60302

PLACES TO STAY
Meet us where you will feel right at home

The Harvey House Bed and Breakfast is your home away from home in Oak Park. The three-story, Victorian Home is beautifully remodeled, offering all of the modern amenities with an old-world charm. Walk to the Oak Park Farmers Market or to One Lake Brewing, strolling past the historic homes in a neighborhood made famous by the likes of Frank Lloyd Wright and Ernest Hemingway. Or walk to the "L" train and be in downtown Chicago in 40 minutes flat.
Jimmy Stewart Suite
The Jimmy Stewart boasts bay windows and a writing desk. With 10-foot ceilings and an arched mirror over an oversized Jacuzzi tub for two, this is the perfect suite for a romantic getaway.
Garden Suite
With a three-sided fireplace that you can enjoy from the oversized Jacuzzi tub, the Garden Suite calls for relaxation. Large windows look out onto luscious greenery and a waterfall shower complements the garden theme.
Golden Chest Suite
Stylish Chicago chic meets zenlike east Asia in this meditative space that mimics the elegance of a kimono with its hand-painted silk fabrics. Perfect for anyone seeking some zen!
Chalet Suite
A huge fireplace warms the cherry wood antique furniture in this rustic room with a Jacuzzi and kitchenette.
Oak Park Suite
The custom bed in this suite is influenced by famed Oak Park architect Frank Lloyd Wright while the antique stained glass window is influenced by Victorian architecture. A luxury bath with a marble-wall rainshower invites relaxation!
Best Time to Visit
Any time of the year is a good time to visit the Harvey House with easy access to both Chicago's Loop and Oak Park's historic homes and delicious dining experiences.
Costs
Prices for suites at the Harvey House will vary depending on the season:
Jimmy Stewart Suite starts at $285/night
Garden Suite starts at $249/night
Golden Chest Suite starts at $185/night
Chalet Suite starts at $250/night
Oak Park Suite starts at $250/night
How To Get Here
Located at 107 South Scoville Avenue, the Harvey House is just three blocks from the Harlem/Lake stop on the "L" Green Line. It's perfectly situated with easy access to Chicago and within easy walking distance from Oak Park dining and shopping. The Inn offers free parking.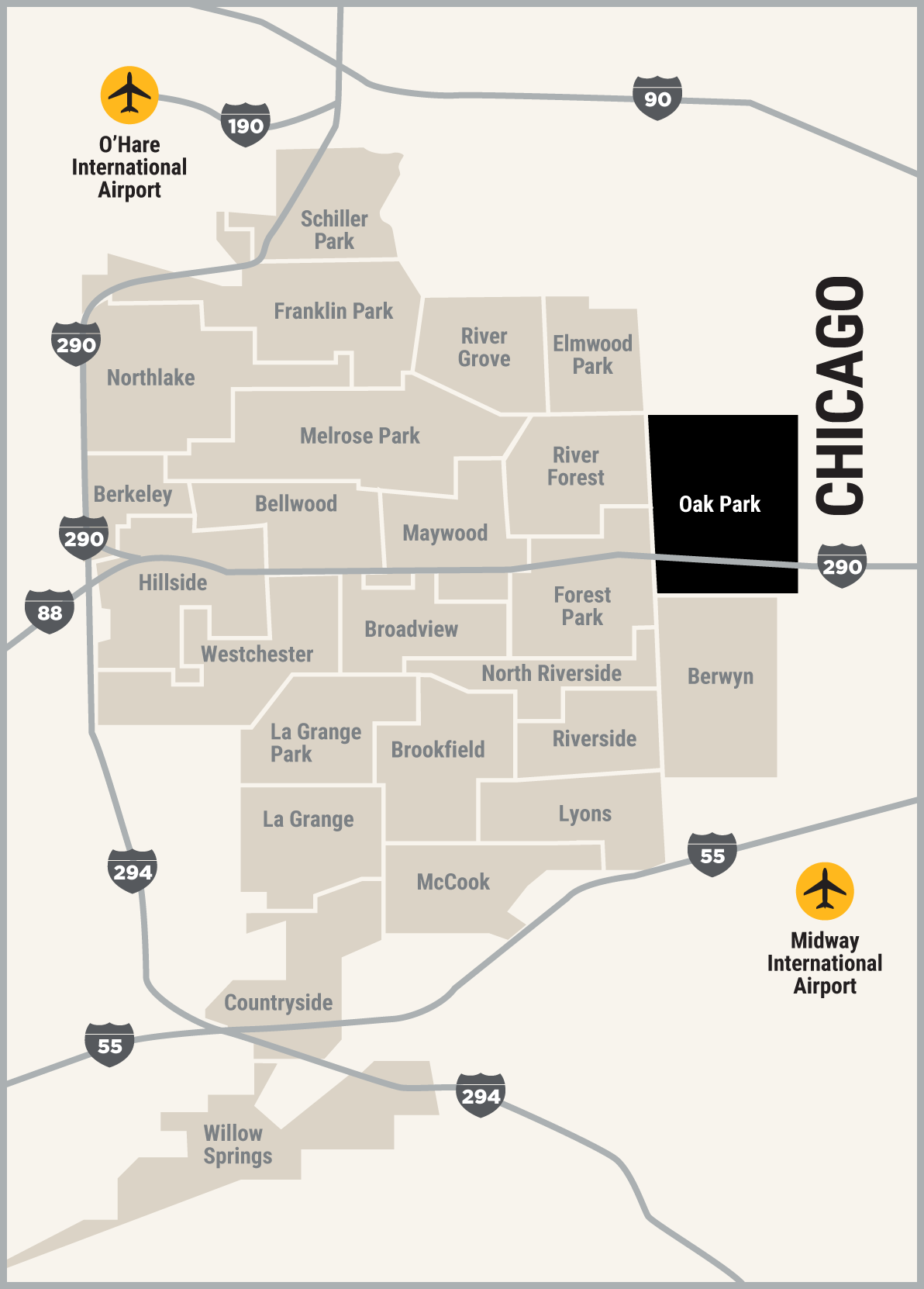 You Might Also Be Interested In...
There's More To Discover!